| | |
| --- | --- |
| Model: | 5201 5202 5203 5204 5205 5206 5207 |
| Place of Origin: | Zhejiang,China (Mainland) |
Add to Basket Edit
Product Description
Payment & Shipping Terms
Supply Capacity
Payment Terms:
T/T
Production Capacity:
50000 Piece/Pieces per...
Min. Order:
1000 Piece/Pieces
Deep Groove Ball Bearings (Single and Double Row)
Globally single row ball bearings are the most utilized type of bearings. They are simple in design and can be used in a wide range of applications. They consist of an inner ring, an outer ring, ball set, and cage. Curvatures in the inner and outer rings where the ball partially lies make it possible to apply radial and axial loads to these types of ball bearings.
They are also ideal for applications with high rotation speeds because the rolling friction in ball bearings is very low compared to other bearing types.
Deep groove ball bearings are very well suited for applications where high or very high rotation speeds are required. Basic versions of the single row deep groove ball bearing are open. When the inner diameter is smaller than 10 mm, the open and covered versions are distinguished from one another by the overall width. Depending on the application, CHH Bearing can offer bearings with light-contact seals (LLH), non-contact seals (LLB), full contact seals (LLU), double shields (ZZ), or with special seals. Our technical service can help you find the best suitable seal material for your applications.
CHH can deliver deep groove ball bearings with or without grease. The standard grease filling is 25% - 35% of the free space inside the bearing. The quantity of grease in the bearing can be reduced or increased to the customer's requirements, or CHH Bearing recommendations. We offer a large range of different grease types.
If the load capacity of a single row deep groove ball bearing is exceeded, then a double row deep groove ball bearing can be considered if the outer and inner diameter of the bearing cannot be changed. Double row ball bearings are available in the same series, bore, and outer diameters as single row ball bearings, but have a greater width.
Special bearing dimensions and types can be produced per our customer's request, as can bearings with standard dimensions according to ISO 15. CHH Bearing can produce ball bearings with a precision class from ABEC 1 to ABEC 5, or provide custom bearings with special tolerances, if required for the application.

Angular Contact Ball Bearings (Single and Double Row)
The raceways of the inner and outer ring of angular contact ball bearings, shifted against each other, were designed for bearings which have to bear combined loads in the axial and radial direction. However, unlike a deep groove ball bearing, axial loads can be applied in one direction only. For this reason, a second opposing bearing must always be used.
The angle adjustability of these bearings is small. The greater the contact angle of an angular contact ball bearing, the greater the axial loading capacity will be. Our standard single row angular contact ball bearings come with a 40° contact angle, making them extremely suitable for applications with a high axial load.
The advantage of double row angular contact ball bearings as compared to single row angular contact ball bearings is that they can bear radial and axial loads in both directions. Double row angular contact ball bearings have a steep mounting, which also can bear tilting effects. Our standard double row angular contact ball bearings are supplied with an angular contact of 25°.
Single row and double row angular contact ball bearings can be supplied with or without shields or seals depending on the customer's request and the requirements of the application.
Depending on the application, the angular contact bearing can be supplied with a plastic cage (glass fiber reinforced polyamide 66), as shown above, or a steel cage.
CHH Bearing also has the engineering capabilities to develop customized angular contact ball bearings, should one be required for your application.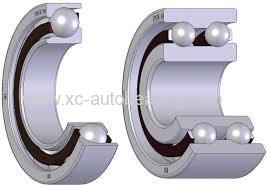 Category: Single angle contact ball bearings
Related Category: four-point contact ball bearings Single-row angular contact ball bearings